Located in an urban slum area north of Chennai (Madras) called "Egmore," Mercy Home is a home for young girls who have been rescued from the streets. The girls, who typically range in age from six to fifteen, are loved and cared for by the Franciscan Sisters of St. Joseph, who provide the girls at Mercy Home with opportunities to receive a formal education and to experience a home-like environment.
Financial assistance is needed to support schooling for the girls. With your help, these girls can receive a formal education at the local Sacred Heart Middle School, which provides a complete education to more than 400 area children. Without Mercy Home, these girls will be left to survive by begging on the streets, and they will likely be trapped in a future seemingly without hope.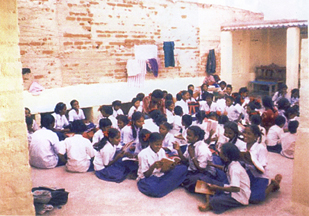 Approximately 30,000 people live in the Egmore area, and approximately eighty-five percent are immigrants who have moved to the area looking for employment. Area residents typically do not have permanent housing, but they live in small huts covered with tin, asbestos sheets and paper. Ninety-five percent of the residents belong to the lowest caste. The more fortunate earn their livelihoods as rickshaw drivers, flower vendors, fish cart drivers and beggars. The rate of alcoholism among adults is very high. These dire circumstances harshly affect girls, who are also commonly seen as a burden to their families. As they grow older, the girls are often forced from begging into more desperate occupations. Mercy Home is a beacon of hope for these girls.
     If you are interested in helping girls at Mercy Home, please specify "Mercy Home" on your donation!