Jeeva Nivas is a home in Pudicherry, India for HIV positive children who are also AIDS orphans. The home is bursting with life and energy. Since the opening of the home in May 2006 through July 2013, Carol Collins, President of the International Foundation for Hope, lived with the children of Jeeva Nivas and directed their daily activities. The progress the children have made is remarkable, and the number of children residing in the home has grown to more than forty boys and girls, ages three to twenty-one.
Nearly all of the children attend area schools, both public and private Catholic, although several children who face more serious health issues are taught at a small school on-site designed specifically for these children. This school includes a computer center, as well as a Montessori-style program for toddlers. The children who study at this school are under the care of two full-time teachers, who work to ensure the children are receiving a solid education.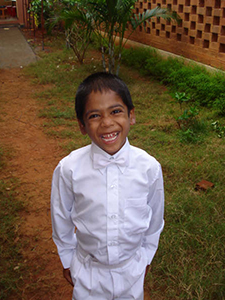 Daily anti-retroviral therapy helps to keep the children's HIV levels low, and regular exercise, which may include yoga routines, plus a balanced and supplement-enriched diet help to improve the children's health. In addition to receiving formal schooling in essential subjects, each child participates in an activity that develops discipline and sparks creativity. The activity may be horseback riding, drawing and painting, yoga, or keyboard or guitar practice.
From past experiences of rejection and discrimination, the children of Jeeva Nivas have learned to keep their HIV+ status a secret from those outside the home, but inside Jeeva Nivas, they are fully embraced and loved.
If you would like to support the HIV positive children of Jeeva Nivas, please specify "Jeevas Nivas" on your donation!